Hawkeye Labor Council Donates Tents and Sleeping Bags to Homeless Veterans Project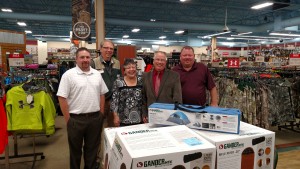 On Monday, October 19, 2015, Hawkeye Labor Council Executive Director, Rick Moyle and member, Jay Larson joined Don Tyne, President of VALOR, Inc., at our local Gander Mountain store to take delivery of tents and sleeping bags for a special project to benefit homeless Veterans.
The project was started last year to replace tents and sleeping bags that had been destroyed in the Flood of 2008. Immediately Hawkeye Labor Council stepped up to help us replace these items. Then Gander Mountain Store Manager, Tim Tietz, partnered with us to give us the best discounted price so our donated dollars could purchase more items.
In all, we took receipt of 7 tents and 7 sleeping bags. The sleeping bags will protect our homeless Veterans up to -20°F. With delivery of these cold weather items, our homeless Veterans will be better protected from our Iowa winter this year.
It is partnerships and support like this that continue to make our efforts to serve our homeless and nearly homeless Veterans so worthwhile.
We extend a great big "Thank You" to all involved in making this project a success.